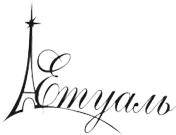 LEtoile beauty salon
About us
+38 (032) 225 71 41; +38 (098) 441 04 34
Lviv, 50 I.Franka str.
***
LEtoile Beauty Salon in Lviv - your charm is a priority!

LEtoile Beauty Salon in Lviv is a member of VIP-clubs in Ukraine and «Salon-expert» of L'Oreal and confirms this status by the work of highly skilled craftsmen.

You can buy gift certificates 150 UAH worth at the LEtoile beauty salon, as well as professional cosmetics of such brands - Decleor, Holy Land, Physioderm, Dr. Spiller. Masters hold «tet-a-tet» lessons of salon visage. The cost of one lesson (60 min) is 150 UAH.

Opening hours: Mon.-Sat.: 10:00-20:00, Sun. —closed.

Hairdressing:
- women's, men's, kids' haircuts, hairstyles and styling,
- holidays, evening, wedding hairstyles and styling,
- creative, podium, art haircuts and hairstyles,
- hair coloring (whitening, coloring, highlighting, toning),
- hot scissors haircut,
- bio perm,
- hair treatment (over the entire length, treating of hair loss, computer diagnostics)
Professional chemicals used in hairdressing services: L'Oreal, Kerastase, Green Light

Manicure and pedicure:
- classic (cut) and European (edging) manicure and pedicure
- gel polish covering that lasts up to 14 days
- accrued nails correction
- "aquarium" nail designs
- Japanese manicure and pedicure
- paraffinotherapy
- SPA manicure and pedicure
- Kids' manicure and pedicure
- treatment: The treatment of ingrown toenails, calluses, corns, cracks on the heel
Professional tools: Masura, Akielin, Ecrinal, Luttike, Suda
Cosmetology services:
- face cleansing: manual, chemical, brushing
- peeling: chemical and physical
- face massage: classic, plastic, plucking (massage by Jacquet)
- cosmetic procedures: darsonvalization, myostimulation
- problem skin cosmetology: treatment of acne, rosacea treatment (of visible vessels)
- cosmetic masks : anti-aging, whitening, cleaning, drying, vitaminous, SPA-masks
- non-surgical face plastic: mesotherapy
Professional tools: Phisioderm, Decleor, Holy Land, Dr. Spiller
Visage:
- Day, evening, festive, wedding, creative
- Kids' visage
- Eyelash extensions (by the piece or beam)
- Coloring of eyelashes and eyebrows
- Men's visage
Cosmetic brands: MAC
Hair removal:
- Waxing (waxing, Bioepilation)
- Shugaring
- Bikini wax, deep bikini wax
Piercing:
-Ear piercing
Massages:
- Classic types of massages: sports, relaxing, therapeutic.
- Massages for figure correction: lymphatic, anticellulite, honeypot massage.
- Spa-massages (aromatherapy, stone-therapy)
- Miostymulation
Wrapping:
- thalassotherapy
- honeywrapping
- clay wrapping
- chocolate wrapping
- cold wrapping
Consultations
- Beautician
- Stylist image maker
 Payment information
Payment Accepted

Cash, By Bank Transfer In Advance , Maestro, MasterCard, Visa, Visa Electron
Treatment ingrown toenails
Apparatus manicure and pedicure
VELVET eyelashes and eyebrows
Hair coloring
cosmetic brands

L'Oreаl Professional
Conditioning treatment
cosmetic brands

Kerastase
Lamination of eyelashes and eyebrows
Hairdressing for children
Japanese manicure and pedicure
Childrens manicure & pedicure
Network facilities Rio-Letual